Vol. 3 (2022): Proceedings of the 1st SENARA 2022
Articles
Master of Ceremony Training Program in Formal Activities at PDM Pasuruan Regency: Program Pelatihan Master Of Ceremony Pada Kegiatan Formal di PDM Kabupaten Pasuruan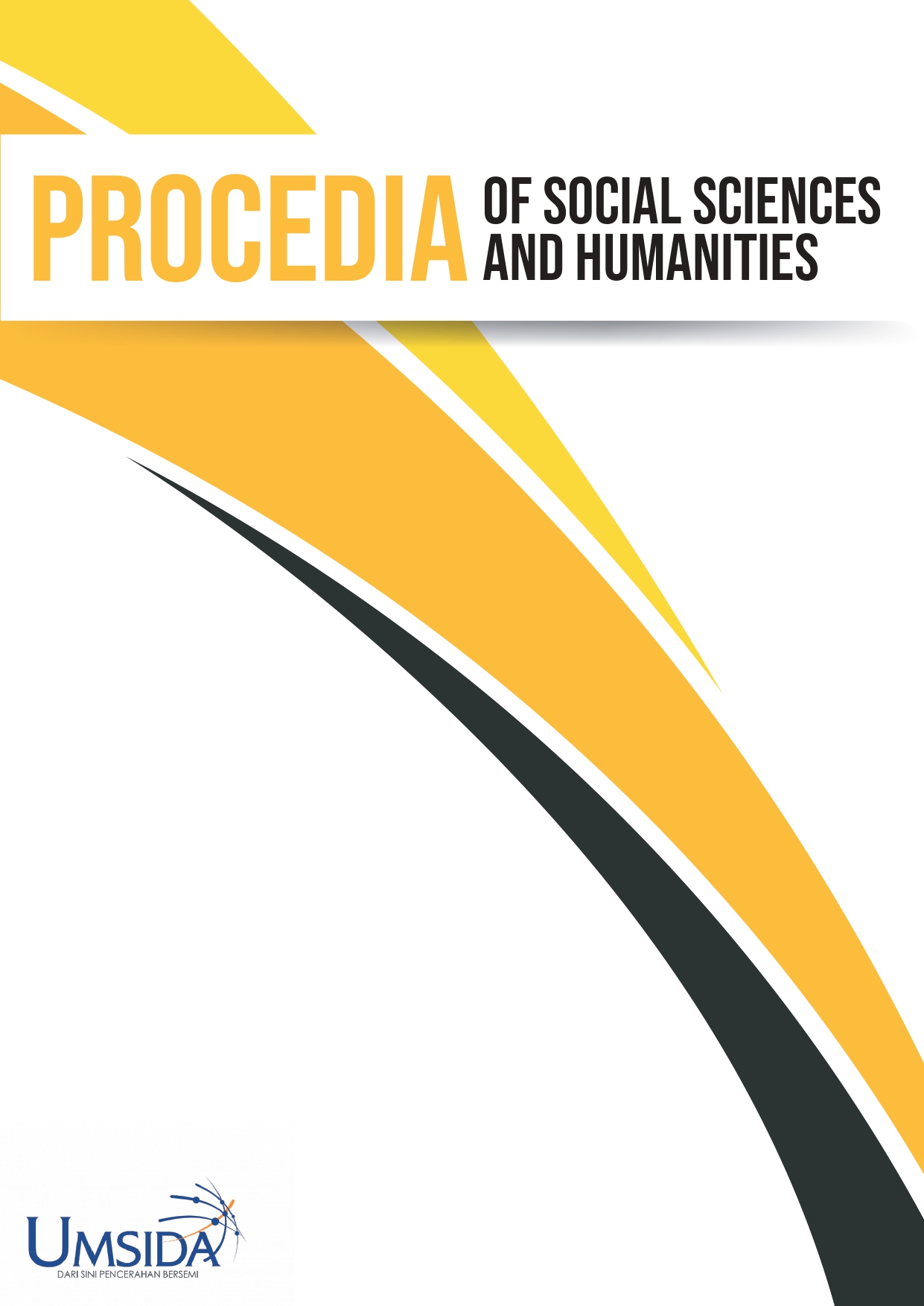 Keywords
Master of Ceremony

,

PDM Kabupaten Pasuruan

,

Kegiatan Formal
How to Cite
Santoso, D. R., Aesthetika, N. M., & Taufiq, W. (2022). Master of Ceremony Training Program in Formal Activities at PDM Pasuruan Regency: Program Pelatihan Master Of Ceremony Pada Kegiatan Formal di PDM Kabupaten Pasuruan. Procedia of Social Sciences and Humanities, 3, 903 - 909. https://doi.org/10.21070/pssh.v3i.275
Copyright (c) 2022 Dian Rahma Santoso, Nur Maghfirah Aesthetika, Wahyu Taufiq
This work is licensed under a Creative Commons Attribution 4.0 International License.
Abstract
Permasalahan yang dihadapi Pimpinan Daerah Muhammadiyah (PDM) Kabupaten Pasuruan adalah keterbatasan anggota yang memiliki kemampuan menjadi Master of Ceremony (MC) untuk memandu jalannya kegiatan bersifat formal. Kondisi ini mengakibatkan setiap kegiatan yang dilakukan oleh Pimpinan Daerah Muhammadiyah (PDM) Kabupaten Pasuruan terkesan tidak teratur dan kurang serius khususnya saat kegiatan dihadiri oleh pejabat pemerintahan. Permasalahan ini muncul karena PDM Kabupaten Pasuruan belum memiliki kader yang ahli di bidang public speaking khususnya MC. Kegiatan pengabdian ini bertujuan untuk meningkatkan pemahaman setiap sekolah Muhammadiyah di bawah naungan Majelis Pendidikan Dasar dan Menengah (Dikdasmen) PDM Kabupaten Pasuruan tentang menjadi MC pada kegiatan formal mulai tingkat lokal, regional hingga nasional. Metode yang digunakan dalam pengabdian ini adalah wawancara dengan ketua PDM Kabupaten Pasuruan bersama Majelis Dikdasmen, salah satu divisi di bawah PDM. Selain itu, metode yang dilakukan adalah observasi, sosialisasi dan pelatihan Master of Ceremony. Kegiatan ini diikuti oleh 30 peserta yang merupakan guru atau humas perwakilan 15 sekolah Muhammadiyah di Kabupaten Pasuruan. Peserta didelegasikan oleh sekolah berdasarkan kemampuan dalam membawakan acara pada kegiatan sekolah masing-masing. Hasil kegiatan menunjukkan respon positif PDM Kabupaten Pasuruan dalam meningkatkan kualitas kualitas MC untuk membawakan kegiatan berskala lokal, regional dan nasional. Selain itu, hasil kegiatan menunjukkan tingkat pemahaman bagaimana menjadi MC yang baik juga mengalami peningkatan melalui praktik secara individu maupun berpasangan. Pada aspek teknis, pelatihan MC ini membantu sekolah dan Majelis Dikdasmen untuk menyusun acara, menulis skrip MC dan menempatkan pembawaan MC sesuai tingkat kegiatan dan jumlah peserta pada kegiatan local, regional dan nasional
References
Nindiani, N. (2011). Master of Ceremony (MC). Artikel Disampaikan pada Pelatihan MC dan Protokoler tingkat Lanjut di FIS UNY, 2011.
Santoso, D. R. (2018). Public Speaking: Drafting, Practicing, Presenting. Sidoarjo: Umsida Press.
Ernawati, K., Purwaningsih, E., Poerwanto, E., & ... (2020). Pelatihan Teknik Komunikasi bagi Kader Jumantik. … (Indonesian Journal of …, 6(3). https://journal.ugm.ac.id/jpkm/article/view/46635
Hasanah, H. (2016). Teknik-teknik observasi. Jurnal At Taqqadum, 8(1), 21–46.
Oktavianti, R., & Loisa, R. (2017). Penggunaan Media Sosial Sesuai Nilai Luhur Budaya di Kalangan Siswa SMA. Jurnal Pengabdian Kepada Masyarakat (Indonesian Journal of Community Engagement), 3(1), 86. https://doi.org/10.22146/jpkm.26925
Santoso, D R, & Taufiq, W. (2021). Implementing Circumlocution to Improve the Speech Performance in Public Speaking. Proceedings of the 1st Paris Van Java International Seminar on Health, Economics, Social Science and Humanities (PVJ-ISHESSH 2020), 535, 117–120. https://doi.org/10.2991/assehr.k.210304.027
Santoso, Dian Rahma, & Mandarani, V. (2021). Strategies Upon Video Blog of English Education Students An Analysis of Communication Strategies upon Video Blog of English Education Students Introduction. 8(1), 1–7.
Santoso, Dian Rahma, & Taufiq, W. (2018). Video Recording to Reflect the Speaking Performance. 125(Icigr 2017), 103–107. https://doi.org/10.2991/icigr-17.2018.25
Santoso, Dian Rahma, Taufiq, W., & Liansari, V. (2018). Implementing Organize Your Speech Posted in Social Media To Improve the Students ' Ability in Public Speaking. 1015–1027.