Vol. 3 (2022): Proceedings of the 1st SENARA 2022
Articles
Effect of Augmented Reality (AR) on Problem Solving Ability in 3D Spatial Modeling in Elementary Schools: Pengaruh Augmented Reality (AR) terhadap Kemampuan Pemecahan Masalah Pada Pemodelan Bangun Ruang 3D di Sekolah Dasar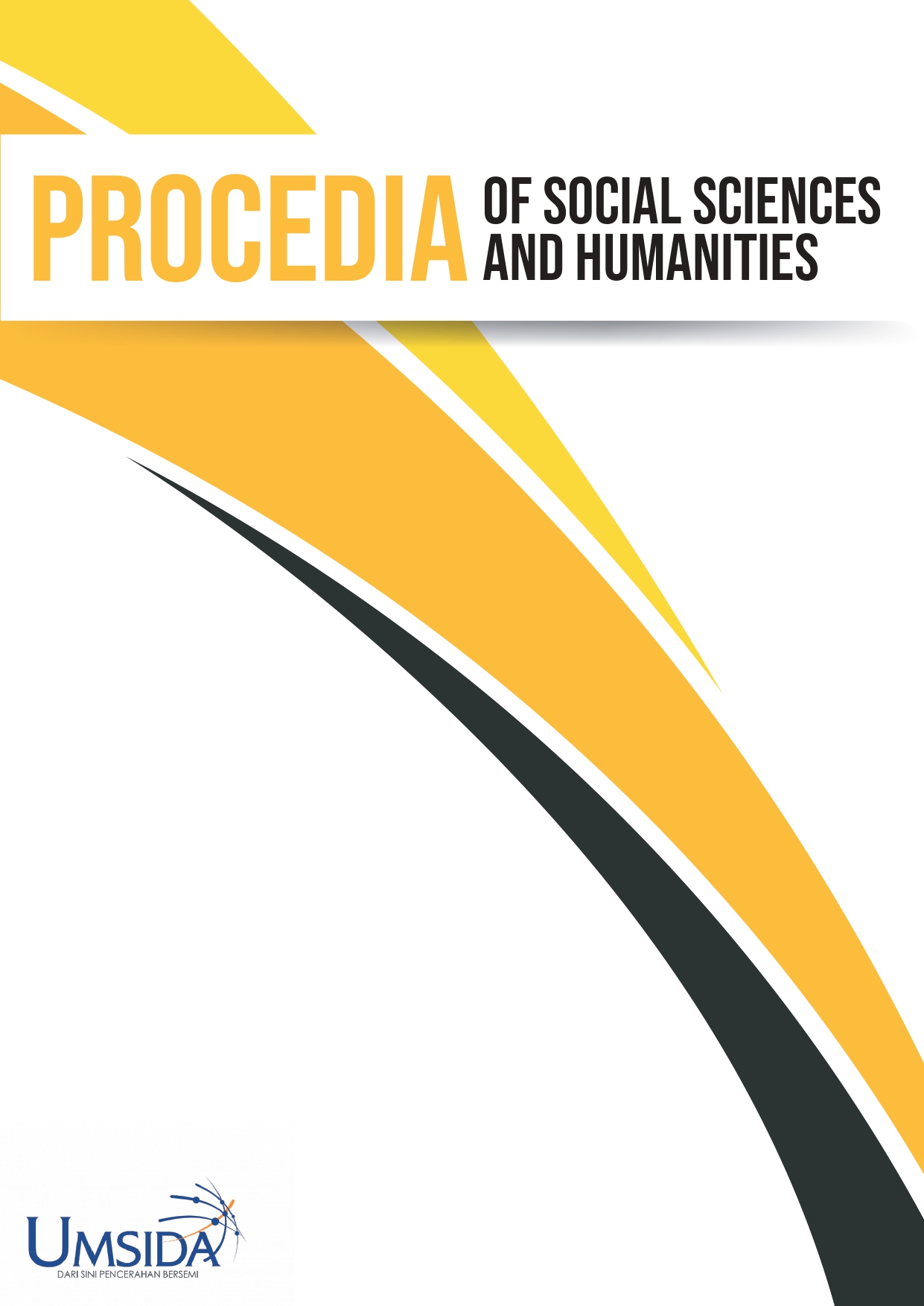 Published
September 30, 2022
Keywords
Augmented Reality (AR)

,

Build Space

,

Problem Solving Ability

,

Elementary School
How to Cite
Untari, R. S., Hasanah, F. N., Wardana, M. D. K., & Andhita, K. (2022). Effect of Augmented Reality (AR) on Problem Solving Ability in 3D Spatial Modeling in Elementary Schools: Pengaruh Augmented Reality (AR) terhadap Kemampuan Pemecahan Masalah Pada Pemodelan Bangun Ruang 3D di Sekolah Dasar. Procedia of Social Sciences and Humanities, 3, 1476 - 1480. https://doi.org/10.21070/pssh.v3i.369
Copyright (c) 2022 Rahmania Sri Untari, Fitria Nur Hasanah, Mahardika Darmawan Kusuma Wardana, Krisna Andhita
This work is licensed under a Creative Commons Attribution 4.0 International License.
Abstract
The ability and expertise in solving problems is needed by every student. Augmented Reality (AR) is a learning application that can improve students' skills. This study aims to analyze the effect of problem solving ability in 3D spatial modeling between students before being given AR treatment and before being given AR. This study used a quasi-experimental design. The subjects of the research were 43 students of class V SDN Lakarsantri 2 Surabaya. This study uses test and non-test instruments. The research data were analyzed using paired T-test. The results showed that: 1) there was a significant effect on problem solving between students before being given treatment and before being given AR.
References
[1] Untari, R., Liansari, V., & Su'udiah, F. 2020. Open Problem Based Learning (OPBL)Scenario on 2D Text Animation Using Polya Approach. Jurnal Ilmu Pendidikan (JIP), 26(1), 22-28. Http://journal2.um.ac.id/index.php/jip/article/view/14317/6253.
[2] Surif, J., Ibrahim, N. H., Dalim, & Fairuz, S. 2014. Problem Solving: Algorithms
and Conceptual and Open-Ended Problems in Chemistry. Procedia – Social and Behavioral Sciences, 116, 4955 – 4963. Doi: 10.1016/j.sbspro.2014.01.1055.
[3] Marzuki, & Basariah. 2017. The Influence of Problem-Based Learning and Project
Citizen Model in the Civic Education. Cakrawala Pendidikan, 36(3), 382-
400. Https://journal.uny.ac.id/index.php/cp/article/view/14675.
[4] Sucipto. 2017. Pengembangan Ketrampilan Berpikir Tingkat Tinggi Dengan
Menggunakan Strategi Metakognitif Model Pembelajaran Problem Based
Learning. Jurnal Pendidika, 2(1), 63-71. Https://journal.unesa.ac.id/index.php/jp/article/view/915.
[5] Untari, Rahmania. Sri., Wiguna, Akbar., Andhiarini, Rugaya Meis., dan Pratama, Arnita
Fentrin. 2021. Android-Based Educational Games for Online Learning at Kindergarten.
Jurnal Ilmu Pendidikan (JIP), 81-85.
[6] Rusnandi, Enang., Sujadi, Harun., Fauzyah, Eva Fibriyany Noer. 2015. Implementasi
Augmented Reality (AR) pada Pengembangan Media Pembelajaran Pemodelan Bangun
Ruang 3D untuk Siswa Sekolah Dasar. Infotech Journal. 24-31.

[7] Creswell, J. W. (2007). Research Design: Qualitative, Quantitative and Mixed Method
Aproaches. SAGE Publications.
[8] Campell, D. T., & Stanley, J. C. 1963. Experimental and Quasi Experimental Designs for
Research. Rand Menally & Company. U.S.A. : Houghton Mifflin Company.
[9] Sulistyorini, Y., & Napfiah, S. 2019. Analisis Kemampuan Berpikir Kritis Mahasiswa
Dalam Memecahkan Masalah Kalkulus. Jurnal Program Studi Pendidikan Matematika,
8(2), 279-287. Doi:https://doi.org/10.24127/ajpm.v8i2.1947.
[10] Mukti, Fajar Dwi. 2019. Pengembangan Media Pembelajaran Augmented Reality (Ar) di
Kelas V MI Wahid Hasyim. Elementary, 7(1), 299-322.
[11] Sari, A. P., & Saminan, I. 2017. Proses Berpikir Kreatif Siswa dalam Memecahkan
Masalah. 10(1), 18-32. Doi:http://dx.doi.org/10.20414/betajtm.v10i1.102.
[12] Fajarwati, S. K., Susilo, H., & Indriwati, S. E. 2017. Pengaruh Project Based
Learning Berbantuan Multimedia Terhadap Keterampilan Memecahkan Masalah dan
Hasil Belajar Psikomotor Siswa Kelas XI SMA. Jurnal Pendidikan: Teori, Penelitian, dan
Pengembangan, 2(3), 315-321.
Http://journal.um.ac.id/index.php/jptpp/article/view/8583/4150.
[13] Lestanti, Isnarto, & Supriyono. 2016. Analisis Kemampuan Pemecahan Masalah
Ditinjau Dari Karakteristik Cara Berpikir Siswa Dalam Model Problem
Based Learning. Unnes Journal Of Mathematics Education, 5(1), 16-23.
Https://journal.unnes.ac.id/sju/index.php/ujme/article/view/9343.